WHAT IS TAMIYA MINI 4WD?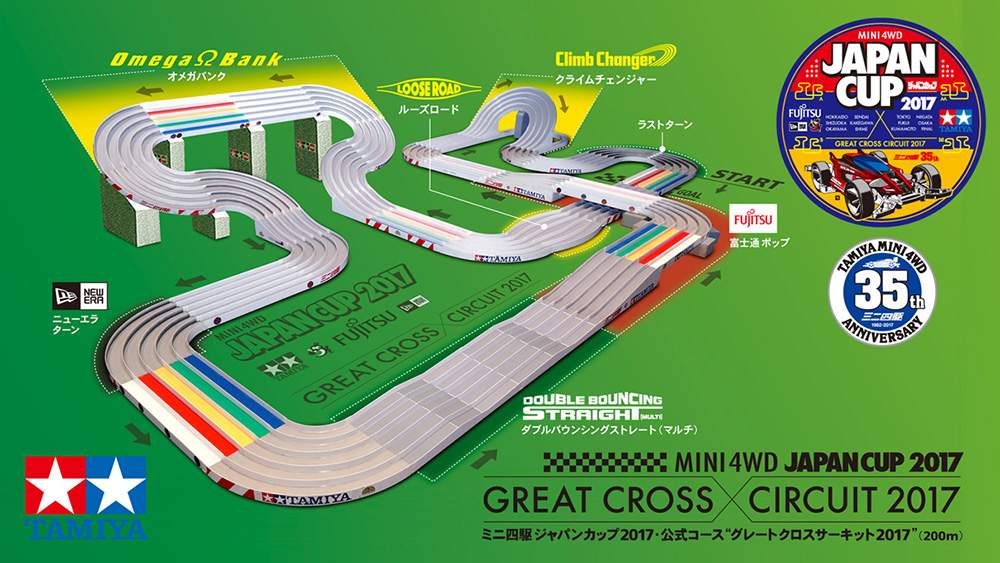 Mini 4WD's were introduced by Tamiya in 1982. Since then, seven series of Mini 4WD's have launched in the US market: The Super Mini 4WD series, the Fully Cowled Mini 4WD series, the Racing Mini 4WD series, the Aero Mini 4WD series, the Pro Mini 4WD series, the REV Mini 4WD series and the Mechanical Mini 4WD series.
A cement-free snap together kit, Tamiya Mini 4WD's are basically "plastic model kits". Many upgrade parts are available for performance improvement. For example, using optional ball bearings helps to minimize friction loss and utilize motor power more efficiently. By selecting the right Tune-Up Parts, you can enhance the performance of your car or enhance its stability in curves and during acceleration.
Besides enhancing performance, you can customize your Mini 4WD to make it special or unique. Get creative while "tuning up" your car. Try cutting material out of your car to make it lighter or painting it with vivid colors. Tamiya Mini 4WD's give you the excitement of racing as if you were the car designer, engineer and the racing driver.
Mini 4WD snap together kits are reasonably priced and can be considered a learning experience for many kids. They are easy to assemble, objects of pride and accomplishment for children and their parents. By assembling their own cars, modifying and racing them, children gain a sense of competitiveness and creativity, lacking in many contemporary pastimes.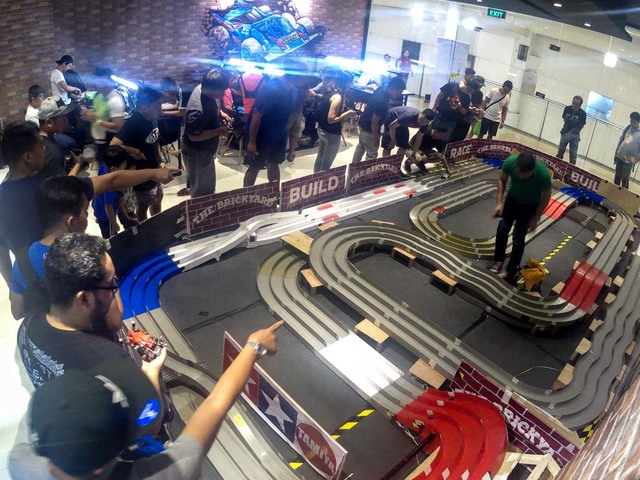 As far as 90s trends go, the success of Mini 4WD is as unlikely as they can get. Lots of trends have come and gone, but Mini 4WD racing has endured. Sure, enthusiasm may wane at times. But recently, interest in the hobby has shot up, and a dedicated scene has grown around it.
Geekery on four wheels
The kids (and an equal number of grown-ups) today still obsess over aftermarket motors and mass dampers, but they've taken things to a whole new level of mechanical geekery. Hobbyists now talk about stability physics as if they were launching rockets to the moon — considering how high-powered these new motors have become, they may very well be planning just that.
A sizable portion of AlGadgets is devoted to what looks like garage spaces in miniature. Each racer hauls "carry pits" (basically, carry cases that function as miniature pit stops) to the work area. Work benches are crammed with toolboxes, lamps, and Mini 4WD cars in various states of assembly. Words like pitch, surge, sway, yaw, and heave are used in regular conversation, but are spoken with almost devout reverence.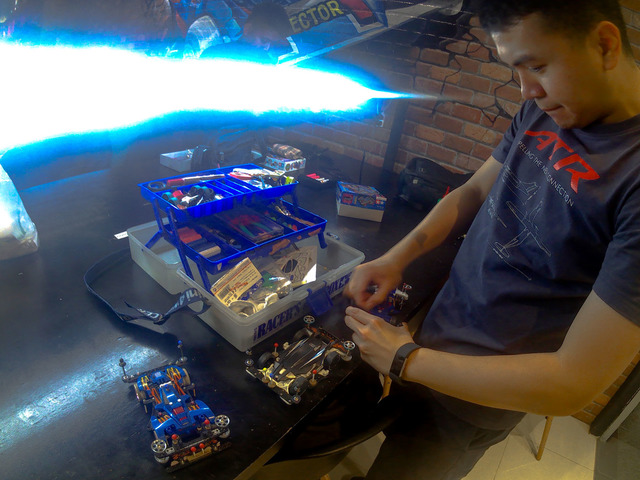 Racers are hunched, monk-like, over their workspaces, only leaving to scope out the track. Unlike larger radio-controlled cars (which Tamiya also makes), Mini 4WD cars cannot be controlled once they're dropped onto the track. So racers have to study the various nuances of a track and make the necessary adjustments — even swapping parts out entirely — to their cars.
A friendly environment
Any type of geek haven can be intimidating to outsiders (heck, even most insiders), but the scene is pretty welcoming to both newbies and seasoned vets of all ages. Most racers keep to themselves, as most geeks would, but there's a strong communal vibe here. Occasionally, racers will cluster together to help solve some racing conundrum.
When a father has trouble helping his son assemble his new Cyclone Magnum, another racer pitches in to help. "There's just something great about watching parents teach and show their kids about Mini 4WDs, and RCs," Ferdie says. "That alone is a wonderful thing."
If the work area has an almost monastic quality to it, the track itself is the high-speed life of the party. The only thing louder than the cars whizzing and clacking against the tracks are the loud cheers of onlookers. Racers buzz with excitement as they wait for their turn to lay their cars onto the track.
Regular days are for casual, or pick-up, races. Racers line up, and compete with each other in batches of three. Seasoned racers share the track with little kids who bought and built their first 4WD that same day. Having a beginner compete with a veteran sounds like a recipe for disaster.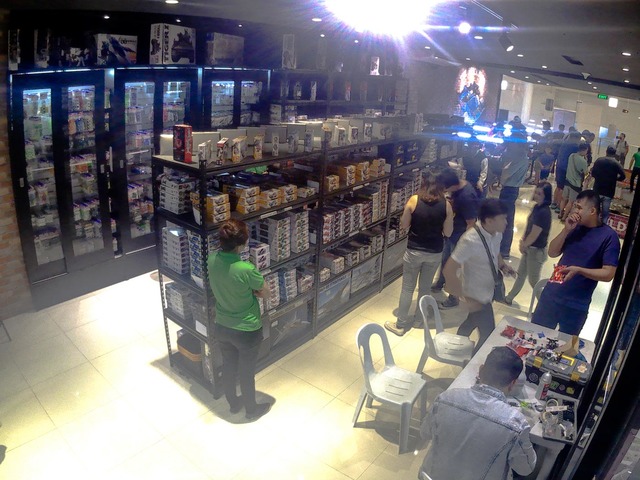 The tournament scene
Casual races are fun and all, but all competitive racers set out to prove themselves at the organized tournaments, which are also sanctioned by the shop. They all have their sights set on The BrickYard Cup Series, which is a lead-up to the Asia Challenge 2019. The Cup is currently on its second leg, and racers of all ages eagerly compete for the chance to race against the best in Asia. The vibe here is definitely more competitive, than the casual races. But the same supportive vibe is still present.
The tournaments usually draw big crowds, and to accommodate these people, The BrickYard has to rent out the mall activity center. Attendance at these events easily dispels the notion that Mini 4WD racing is a fossilized trend from the 90s and early 00s. If anything, the fandom now seems bigger than ever — so big, in fact, that Tamiya has taken notice.